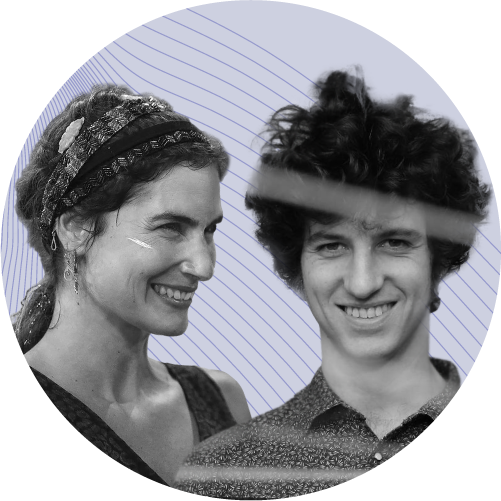 Madlen Anipsitaki
Simon Riedler
Biography: Madlen Anipsitaki
Madlen Anipsitaki (Athens, 1987) is an architect and urban scenographer. She focuses on experimenting with the links between public and private spaces. In 2015, she graduated from the Paris-Malaquais Architecture School, part of the Paris School of Fine Arts. In her thesis, she proposes a network of passages that connects and revitalizes the public spaces of a block, sometimes passing through apartments. She develops a manifesto on human relations, aspiring to remove the contradiction of communicating with people on the other side of the world and not knowing your neighbor.
After working for 3 years as an architect, she founded Collectif MASI in 2018 together with Simon Riedler.
Biography: Simon Riedler
Simon Riedler (Paris 1991) is a sociologist, a graduate of Paris Dauphine University (2014) and Paris Diderot University (2017), and an artist specializing in the study of international migration and inter-ethnic relations.
Founding the Collectif MASI in 2018, together with Madlen Anipsitaki, Simon Riedler pursues his research and his social work questioning the capacity of the city to integrate different ethnic groups. In a social art practice, MASI's sculptures incorporate scraps from different social environments, encouraging creative encounters between different people.
Talk Details
Thread network in the urban fabric
We live in a digital era where you can be 'in touch' with people on the other side of the world without knowing your neighbors. The coronavirus and its 'social distancing' reinforced our physical lockdown and virtual bubbles. So, shall we generate events for people to really meet and create together, especially if they come from different backgrounds? The playful provocation of everyday life 'A thread network in the urban fabric' fulfills this goal. We will share the story of our journey in 9 Central and South American neighborhoods of 7 countries to realize 'Thread' networks together with local actors. We chose to work in difficult neighborhoods where art in the public space generated unprecedented dynamics.