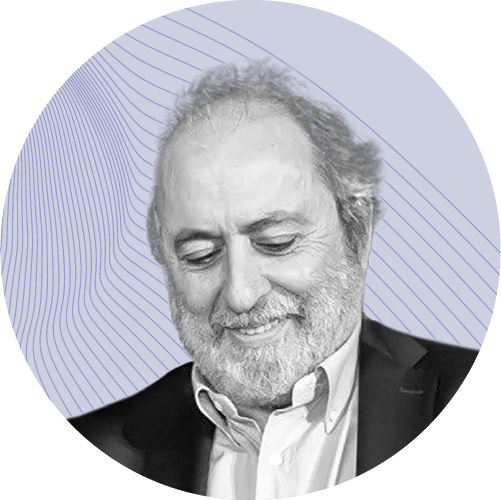 Giorgos Galanakis
Biography
Giorgos Galanakis was born in 1953 in Sitia. Married to Aliki, they have three children. He graduated from the Faculty of Veterinary Medicine of the Aristotle University of Thessaloniki in 1978. Postgraduate studies in Paris followed in the three years 1979-1982. From 1982 to 1988 he was active in Sitia, in Animal Husbandry. In 1989 he moved to Athens for family reasons but worked in Russia on behalf of a large Greek investment company, responsible for the creation of pig farms. In 1993, having finished the construction and operation of 4 pig farms and a feed factory, he created his own company offering technology to existing pig farms. In 1999 he returned to Athens. In 2002 he built a factory in Romania for the production of animal feed mixtures utilising a new technology that improves animal feed. In 2010 he sold the factory to the world market leader in feed additives and invested all the money in building a feed production plant and pig production unit. Today the production possibilities are 200,000 pigs per year. He has supported the chair of Greek studies in Bucharest for the last 12 years. In 2020 he founded and financed the Urban Non-Profit Company Stegi Vitsentzos Kornaros (Στέγη Βιτσέντζος Κορνάρος) based in Sitia and with the aim of serving the community of Sitia at various levels.
Talk Details
The Genesis of a Cultural Centre
My vision is the promotion of the great poet of the Renaissance Vitsentzos Kornaros and his work "Erotokritos", as well as my hometown of Sitia.
The idea is implemented with the creation of Stegi Vitsentzos Kornaros. It has been enthusiastically taken on by capable fellow citizens, who are active at all levels.
The aim of the Stegi is to contribute to culture, to self-knowledge, by studying and recording the needs of the place. To respect and strengthen traditions. To make Sitia, the city of Erotokritos, an international center for scholars of the poem.
The Stegi is open to every single citizen who wishes to submit ideas, to participate in actions, to support it.